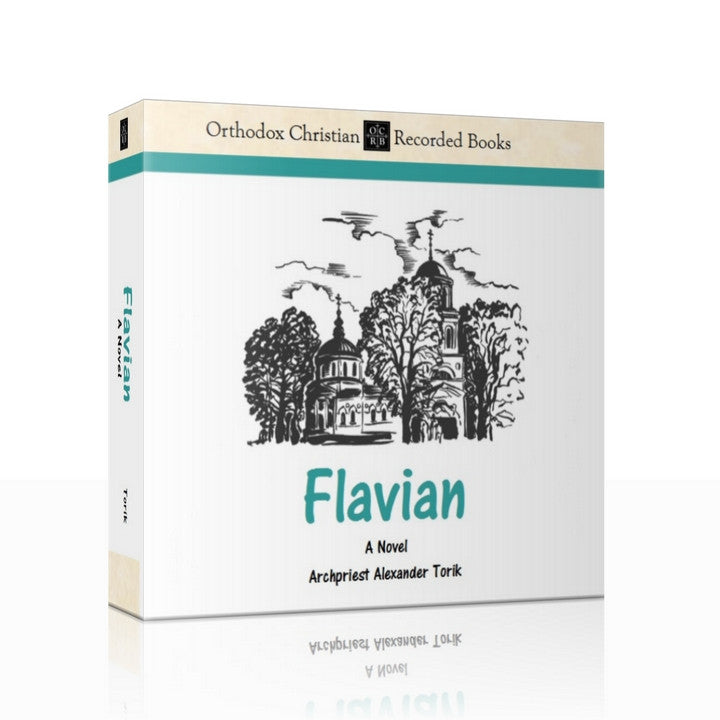 Flavian: A Novel
Download the first chapter for free! Select "Chapter 1 - Free Download" above.
Something very unusual has come to the Orthodox audiobook market: a full-length novel, set in contemporary Russia, written by best-selling author Archpriest Alexander Torik. The novel's protaganist: Hieromonk Flavian, a no-nonsense man of the cloth, who tells it like it is and lives it like he tells. Told from the point of view of Flavian's former classmate, Aleksei, the story follows Alexei's first-hand encounter with the Orthodox Church, learning the ropes of practical Christianity through the example and stories of the novel's stalwart hero.
This novel, suitable for all but the youngest audiences, is the first in the Flavian trilogy. Worthy of note is that most of the occurrences in the novel are based on true stories known to or experienced by the author. Recommended for ages 12 and up.
5 hours 5 minutes. Choose one of the options in the drop-down menu above:
MP3 Download (available for download immediately; 16 files, one for each chapter)
5-CD album (currently out of stock)
Chapter 1 - Free. Download the first chapter for free!
Click below to listen to a sample clip:
For MP3 Downloads: Upon purchasing this product you will have the option to download the files immediately from the confirmation page, by clicking "Download my purchase". You will also receive an e-mail with a link to your download.
If you like  our products, please do not share files or make copies for friends; instead, encourage others to purchase our reasonably-priced productions. OCRB is small enough that file sharing will seriously hurt the company and could quickly put us out of business. Thank you!