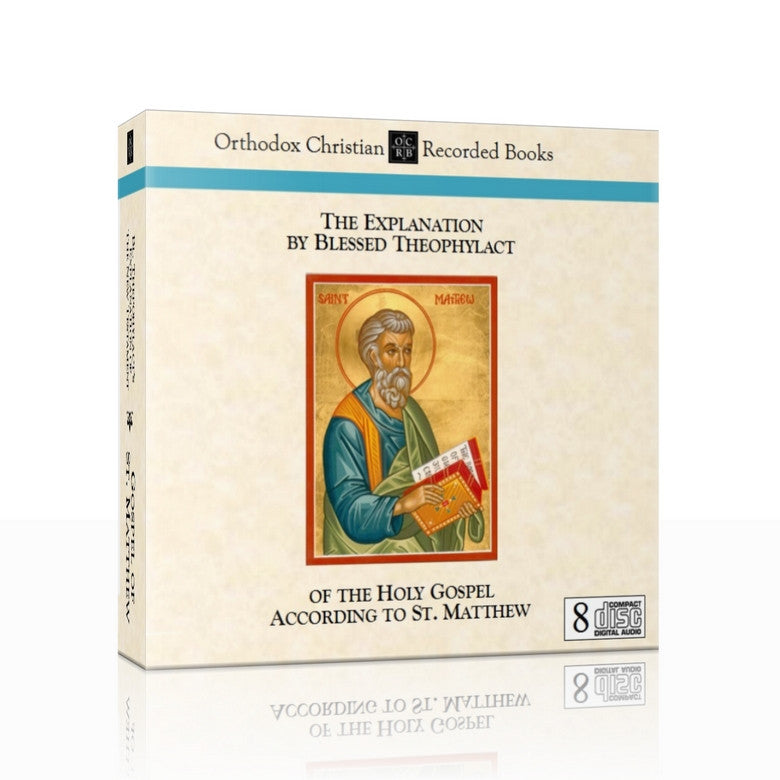 Explanation by Blessed Theophylact of the Gospel according to Saint Matthew
Written 900 years ago by Blessed Theophylact of Ochrid, these commentaries distill the essence of the preaching of St. John Chrysostom and the other great fathers of the patristic era, who lived many centuries before the author's own time.
Now available in a superb English translation, Blessed Theophylact's work gives us a timeless "Bible study" of ancient and divine origin, untouched by contemporary opinions and discussions, that has proven its value to generations of Christians over the past nine centuries.
Approx. 9 hours. Above, choose MP3 Download (available for download immediately), or 8-CD album. 
Click here to listen to a sample clip:
You can also purchase the hardcover book from Chrysostom Press.
Parental advisory: In his commentary on Matthew 4:19 (at 07:53 in Chapter 4), Blessed Theophylact cites a harsh historical reality that could be hard on little ears.
If you like our products, please do not share files or make copies for friends. Instead, encourage others to purchase our reasonably-priced productions. OCRB is small enough that file sharing will seriously hurt the company and could quickly put us out of business. Thank you!