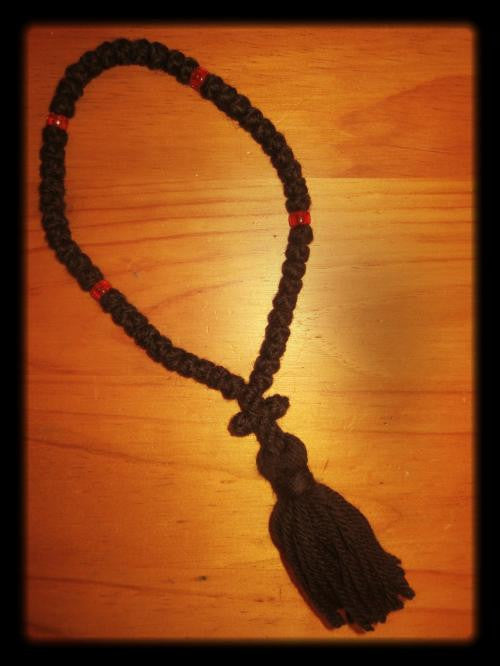 Custom-made Prayer Ropes
Each prayer rope is handmade in the USA, using cord or high-grade US-produced wool, and hand-selected glass or metal beads. Expert local craftsmen customize your prayer rope using your preferred bead style, black or white wool, or black cord.
Please specify size (33, 50, or 100 knots), material (traditional wool, in black or white, or durable cord, in black or blue); and bead color (red, blue, green, purple, or metal) using the drop-down menus above. Cord prayer ropes are available only in 50 or 100 knots, as the knots are smaller. Prayer ropes are not stocked: each is individually custom-made to your specifications. Since each prayer rope is custom made for the buyer, prayer ropes are not returnable.
As shown, cord prayer ropes and 33-knot wool prayer ropes have no tassel. 50 and 100-knot wool prayer ropes do have a tassel.
Your order will usually ship in 1–3 weeks, depending on the number of prayer ropes ordered (large orders will require additional time). If you are ordering CDs as well they will ship at that time. If you need them earlier, please order the prayer ropes separately.